Love In My Vault Coconut Milk Bath Soak
Our Luxurious Bath Soaks are a sweet escape during bath-time. Soak the day away, detox, soothe an...
Our Luxurious Bath Soaks are a sweet escape during bath-time. Soak the day away, detox, soothe and soften your skin.
ORDERS PLACED ON 04/13/2021 SHIPPING PROCESS BEGINS on 04/20/2021  LIMITED QUANTITIES
Love In My Vault also provides romantic elements of farm-grown Rose Petals. The scent marries beautiful feminine keynotes of jasmine, rose with melon, musk, and blond woods. Love is certainly in the Vault.
Coconut Milk Bath Soak

How To Use:
Add the desired amount to the bathtub under running water and disperse throughout the bath with your fingers. It is best to add this right before or when you are in the bath since the oils will vaporize when they make contact with the water. Inhale deeply and enjoy.
Please keep water out of the jar at all times and shake thoroughly if any clumping occurs.
Ingredients:
Organic Coconut Milk Powder, Pink Himalayan Salt, Epson Salt, Jojoba Oil, Rosehip Oil, Vitamin E, Dried Rose Petals, Freeze-Dried Strawberries & Fragrance Oil.
Patch Test Recommended For All Skincare Products:
A patch test is a simple way of checking whether your skin will react to new products such as cosmetics, soaps, moisturizers, or topical medications. Patch testing is a common way to check for a variety of allergies.
Although our products are made with Top Quality Natural Ingredients, that does not guarantee that someone will not be allergic as all skin sensitivity is not created equal.
Please be aware that ingredient lists may change or vary from time to time. Please refer to the ingredient list on the product package you receive for the most up to date list of ingredients
Customer Reviews
When I poured this bath soak in my tub the smell took me away. I couldn't wait to hop in. I was so relaxed that I actually fell asleep for a bit. I'm not a huge bath person but these products will def change that!! This was the first of 4 products I used last night and let me tell you I was not disappointed. I bought the small container and used it all...I'm kicking myself now because I don't have anymore on hand. I will be rectifying that immediately!!! If you haven't tried this collection you are missing out!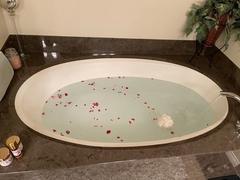 Follow us