Customer Reviews
09/14/2021
Kenneshia J.

United States
Yeeeesss❤️
My overall favorite collection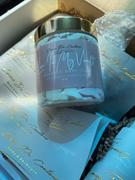 I love this soap! I have other natural body washes but this is babe! You are provided a small scoop, use the scoop! I use less soap when I use the scoop. I use about 2- 2 1/2 scoops per wash and each time I am clean, sweet smelling, fresh AND MOISTURIZED! This is what you want from a soap! My whole wash routine has been upgraded for the better and I love how Love Vault makes me smell. No lie, I go to my husband and say smell me lol. I be so feeling myself with this soap!
This was the second item I used last night and it was everything and then some. You only need a small spoonful of soap (which is provided). The richness of this soap is unmatched by any other soap I own. I smelled yummy still this morning hours later. This queen has created an exceptional body line and I couldn't wait to order more! If the rest are like this I'm a forever customer. Please add This to your collection ladies!!! You will not be disappointed.